After the bustle of Rome, Umbria was a romantic movie set. Lesley and I were charmed to see children playing in Spello's piazza fountain, their mothers sitting nearby chatting, and old men soaking up the sun. We went through an impressive stone archway and began our 2 km walk uphill to our lodgings. Jasmine framed the doorways and covered the ancient stone walls, filling the air around us with its scent. As we walked higher, each corso had a better view of the green valley below, perfectly framed by the geraniums, daisies, petunias, and verbena tumbling from the flower boxes affixed to the walls on either side.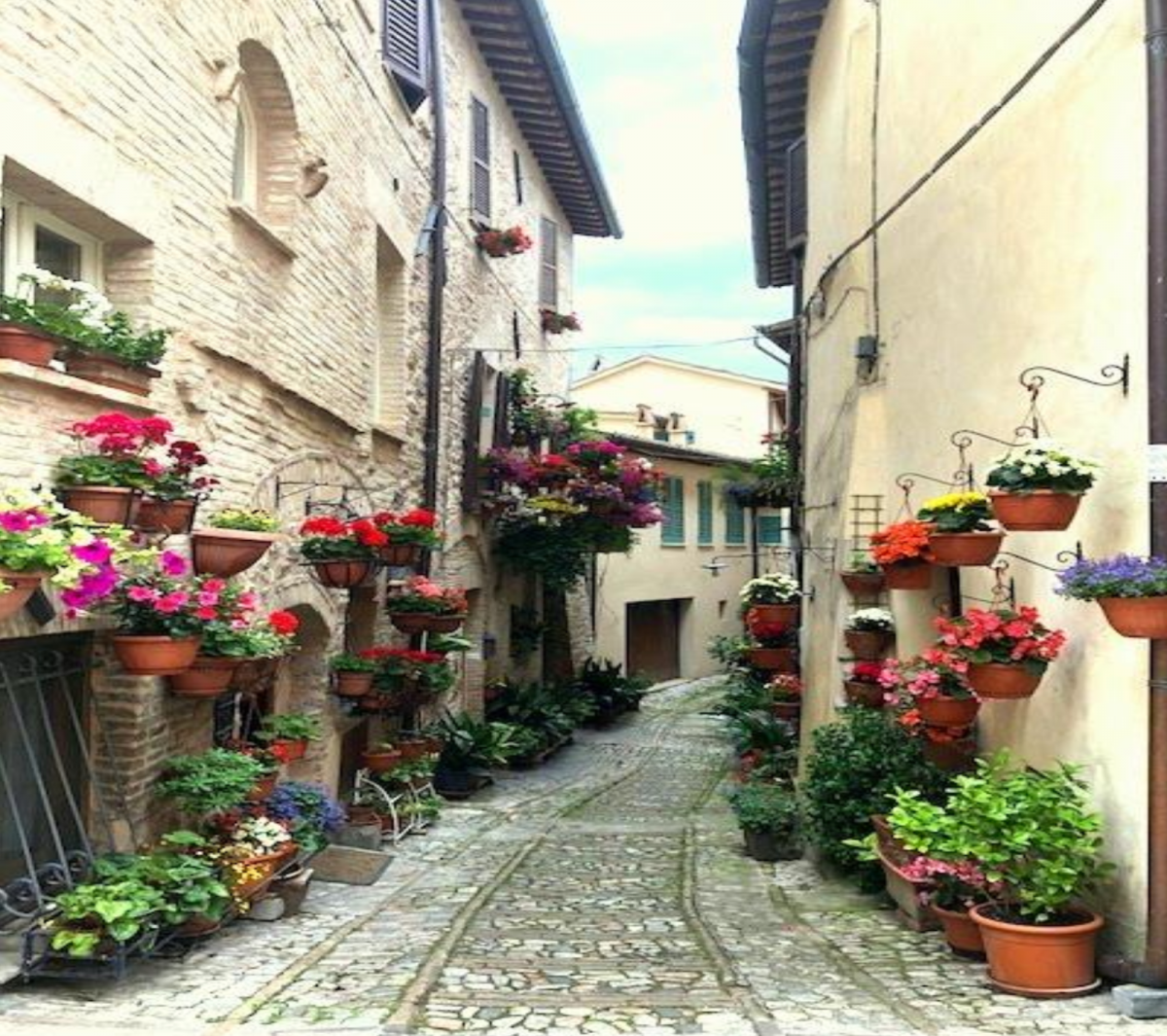 Juaqino, the proprietor of Il Cacciatore, a delightful inn with a deck overlooking the valley, spoke little English—or so he claimed—but his gestures and the twinkle in his eye communicated well enough. "How you will ride?" He pointed to my "roto polso" (broken wrist) encased in its black synthetic brace. I had broken it only five weeks earlier, but my orthopedic surgeon had removed my cast the morning of my flight, offering just two words of advice: "Don't fall."
Our trip was a gastronomy tour, so that evening Lesley and I redeemed our first voucher for wine pairings at a local enoteca. I am unsophisticated when it comes to wine, but Lesley was in her element as a new wine, in a new glass, arrived with each course. The sommelier described the history of the growing region, the grapes and who had blended them, and as Lesley carried on an intelligent wine conversation with him, I simply found each glass more delicious than the last. I lost count and felt a bit embarrassed by the accumulation of glasses on the table.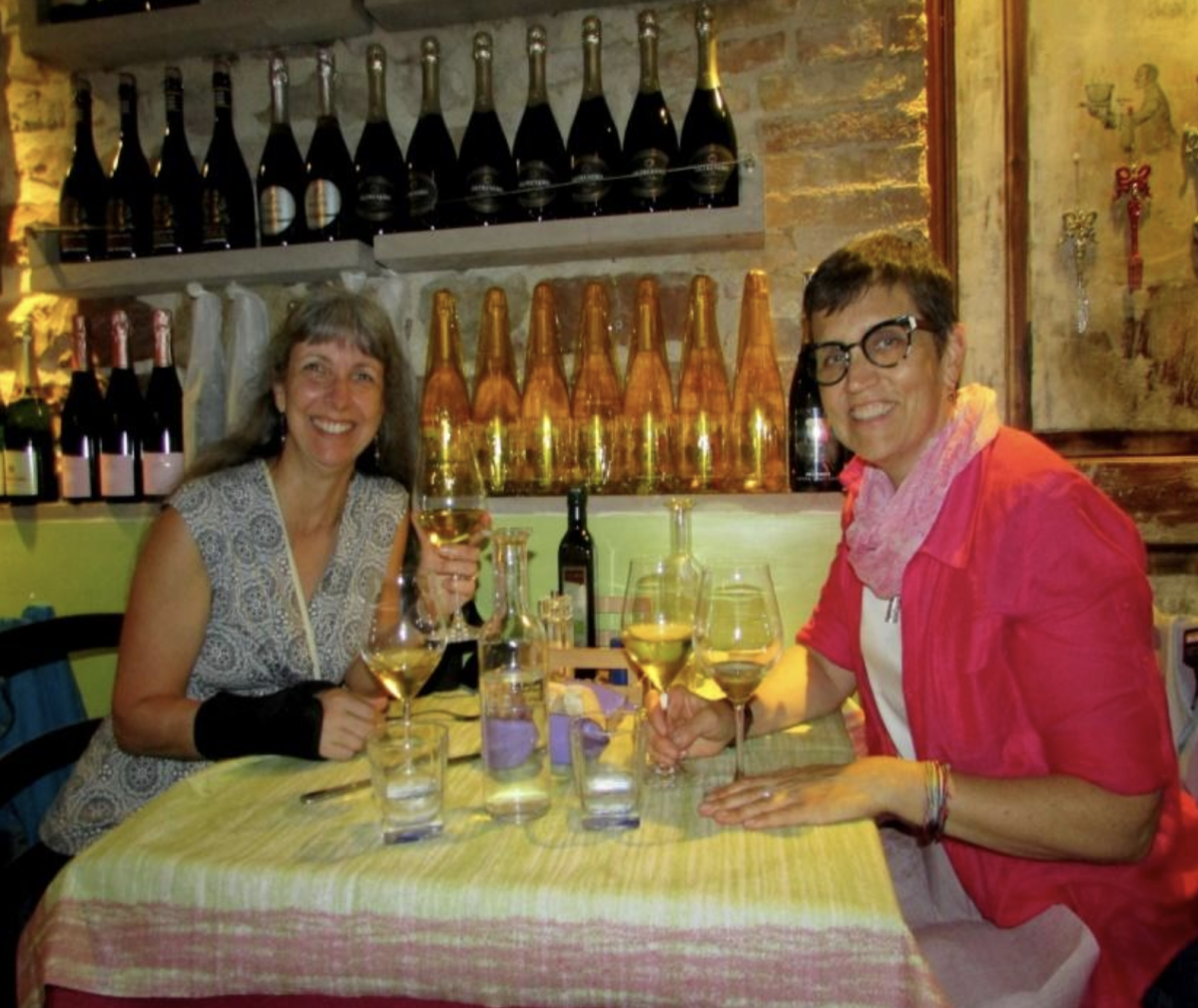 The food was such simple fare—scrambled eggs with porcini mushrooms, fettucine with herbs and olive oil, air-cured locally raised meats and cheeses—why did it all taste so divine? By the time dessert arrived—a particularly delicious biscotti—I could not even bring the dessert wine to my lips. Lesley, who had become involved in a lively conversation with the cyclists at the next table, discovered their tour company didn't provide wine pairings with its packages. Cheers to Tripsite!
In the morning Paolo, our bike man, and luggage mover, decided my roto polso entitled me to a brand-new bike and installed my special FinGrips (manufactured by Sidestix in BC) that would distribute the tension over my hand. Paolo couldn't have been more enthusiastic—I was earning points for riding in my condition.
As we rode out of Spello, the town was preparing for its annual festival, the Infiorate. Groups of people were separating flowers, petal by petal, sorting them by colour before setting them out in the sun to dry. They would, we were told, retain their brilliant hues and become part of the mosaics featured on the vias and corsos throughout the town—maintaining Spello's reputation as the world's best city for flowers.
Although we had odometers and maps, we preferred Paolo's written cycling directions, which while not perfect were more fun: "Continue straight on and you will see a dancing place with flamingos. After the dancing, turn right."
Italians love food, wine, and beauty. They decorate their towns, themselves and even, as it turns out, their vineyards. Planted at the end of each row there was often a beautiful red rose.